Go therefore and make disciples of all nations
Stewartstown United Methodist Church is preparing for AWOL, A Work of Love. March 29 - April 3, 2021. This is an opportunity to serve and help our local neighbors.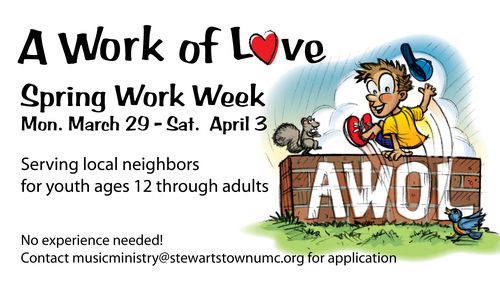 Active Missionaries - update coming soon
Contact us for more information about:
A Work of Love (AWOL)
Adopt-a-block
Backpack Ministry
Bridge of Hope
Car Ministry
College Student Ministry
Community Closet
COP Projects
Doracas Ministrry
Helping Hands for the Homeless
Providing Meals
Missionaries
Mission Central
Mothers of Preschoolers
Sierra Leone Partnership
Special Sunday Offerings
United Methodist Committee on Relief
Young Life
Encourage our active missionaries
Write and encouragement, question, or prayer and we'll connect you via email.